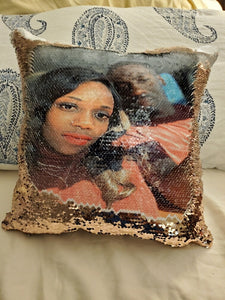 Please email photos to ellesdecorandmore@gmail.com 
Introducing our custom sequin pillow - the perfect way to add a touch of personalization to any special occasion! ✨🌟 Whether you're looking to create a memorial item in honor of a loved one, celebrate a graduation, or welcome a new baby, these pillows are a unique and meaningful way to commemorate life's most precious moments.
With high-quality sequins that can be flipped to reveal your personalized message or photo, these pillows are sure to make a statement in any room. And with a variety of colors and styles to choose from, you can customize your pillow to perfectly match your style and occasion.
Give the gift of memories and create a one-of-a-kind keepsake that will be cherished for years to come. Order your custom sequin pillow today! 💖👶🎓 #CustomPillow #MemorialGift #GraduationGift #BabyGift #PersonalizedKeepsake