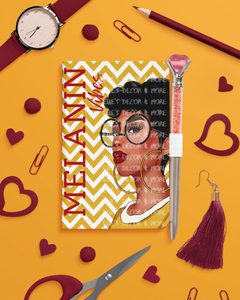 Introducing our stunning Melanin Vibes Notebook - the perfect way to express your individuality and celebrate your melanin beauty! 📓💛
Featuring a vibrant yellow chevron design and a bold "Melanin Vibes" message, our notebook is sure to catch your eye and inspire you to embrace your unique brilliance. With its high-quality materials and durable construction, you can trust that your notebook will withstand daily wear and tear.
Inside, you'll discover thick, high-quality paper that provides a smooth and comfortable writing experience, whether you're using a pen, pencil, or marker. And with its perfect size, you can easily slip it into your bag and take it with you wherever you go.
But what really sets our Melanin Vibes Notebook apart is its empowering message. With "Melanin Vibes" emblazoned on the cover, you'll be reminded every time you write to celebrate your melanin beauty and embrace your unique identity.
This notebook is perfect for anyone who wants to express themselves, capture their ideas and musings, and celebrate their melanin beauty. It's also a great gift idea for your friends, family, or loved ones who appreciate a little bit of inspiration in their daily lives.
Celebrate your melanin beauty with our Melanin Vibes Notebook. Order yours today and start expressing yourself in style! 💛📓 #MelaninVibes #Notebook #CelebrateYourBeauty #Empowerment #GiftIdea